We are able to import your activity data from an Excel spreadsheet in bulk into a Digital Measures data screen. This can be a good way to add multiple entries for a particular screen, or make bulk updates to existing data.
STEP 1: Identify the screen you wish to import data to. At the bottom of this page are sets of import templates, grouped by screen. You'll download both the Excel Import template, as well as the column definitions template.
Here is a view of the Excel template for the Research Advising screen.
and the companion guide describing the columns and expected values for the columns of the Research Advising screen.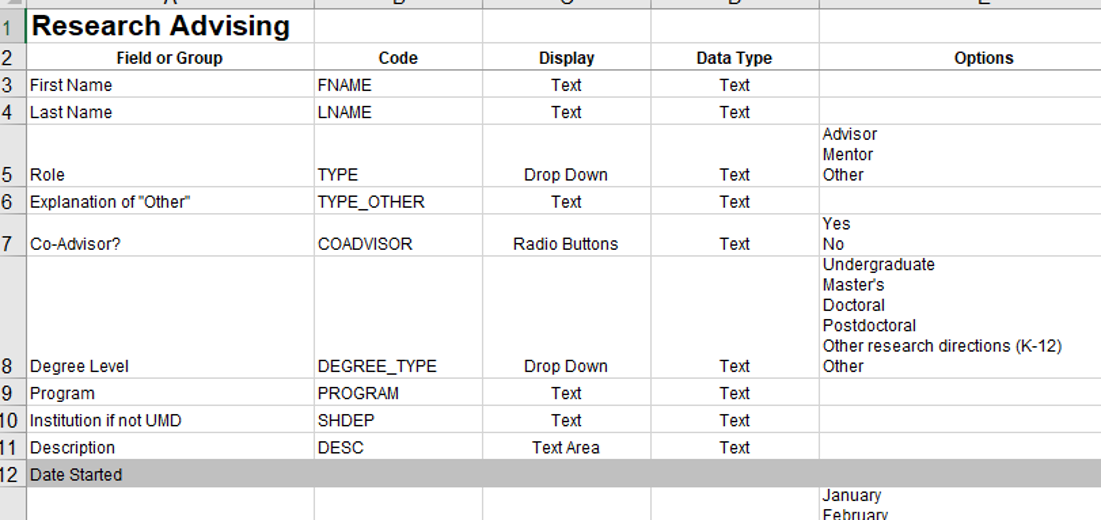 STEP 2: Edit the Excel template and add the information for each of your past and current activities related to the associated data screen. Using the Research Advising screen as an example, you would enter all of the students you are currently advising in a research capacity in the template - one student per row. You can also enter information on students you advised in the past. For the columns where only certain values are allowed, such as TYPE and DEGREE_TYPE, be sure to refer to the guide to select the right value.
STEP 3: Email the Digital Measures team and send the completed Excel file for bulk import. We will import the data to the appropriate screen in Digital Measures and let you know when that has been completed. 
BULK UPDATES: Excel record editing can also be used to apply bulk updates to existing Digital Measures data. If you have a change that is needed to several records on a particular data screen, we can work with you to export the data, apply the edits and then import the updates into Digital Measures for you. This can be helpful if you use Publication Import, for example, and a detail about the set of publications imported was not included - such as whether the publication was peer-reviewed, for example. Simply contact the Digital Measures team and we will walk you through the process of bulk updates to existing Digital Measures data.
Bulk Import Templates
Unpublished presentations, keynotes, etc. are represented on this screen. Any presentations that are published in conference proceedings should be entered on the Publications screen, not on this screen.
This screen is for campus service, leadership roles in meetings and conferences, committee memberships, and panel participation. This pertains to departmental, college-level and/or campus-level involvement in shared governance.